Upholstery Service Helps Mother Earth
Furniture is a booming industry in Singapore and every year around the festive holiday season, furniture malls and upholstery shops become really crowded as Singaporeans start preparing for Chinese New Year family reunions, Hari Raya gatherings or Christmas dinners. While many Singaporeans prefer to buy new sofas and curtains every 5 years or so, many try to look for the best Singapore upholstery service providers in order to give their furniture a new look every 1-2 years' time.
There are many upholstery service providers with services for a variety of furniture types such as sofa, dining chairs with padding, webbing, and springs for both fabric and leather replacements. When you have to decide whether to buy new furniture or reupholster the old one, there are many factors to consider. There are many pros and cons for sofa upholstery services.
First of all sofa upholstery services allow you to keep your old sofas which you are just in love with and would not want to let go. Secondly, the team from the Singapore upholstery company will come to your house to have a look at your furniture and will then offer their services accordingly. Most importantly, furniture and sofa upholstery services help save the environment as you will not throw away your old sofa or dining set which will reduce the use of raw materials, there won't be any transportation charges, and consequently no carbon emissions. It will also help to reduce the energy usage which will be needed to drill and disassemble your old sofa for recycling or disposing.
On the other hand, depending on the material, size of your sofa and dining chair, and also on the sofa upholstery services in Singapore upholstery company, the upholstery cost may vary. It could even possibly be close to the cost of buying a new sofa which will make you think why would you want to go for upholstery services after all. Well, if you have some idea of how much of the natural resources we are using every day to make a comfortable living in our houses, offices, spending so much fuel in transportation, excessive usage of electricity, water and plastic. All these actions are leading to global warming, rising in sea levels, waste disposal accumulating in oceans risking sea creatures, and extreme weathers around the world are all results of our actions which are sending us a signal of what kind of world we are leaving for our children.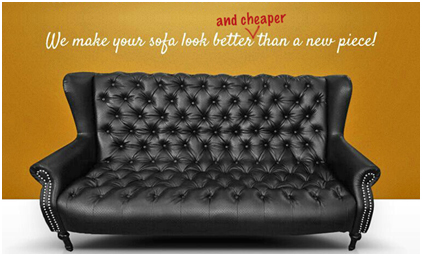 Comparatively buying a new sofa will definitely cost you more as you will have to go to a few furniture shops to see what are the options available, then you will have to select the sofa design and color and you might not get exactly what you want in terms of color, size and design all in one piece. Although it might save you a bit of hassle of going through the process of contacting the upholstery company and making an appointment with them, but at the same time you can do it at the convenience of your own time as they will come to assist you at home.
Whether you have wooden furniture which is quite common in average Singapore household due to its humid weather conditions, or a weather sofa which is relatively easy to manage, or a fabric one which is more comfy but prone to stains, the upholstery of sofas and chairs is quite common in Singapore. It gives you the flexibility of change of color to match with your home theme, it will save you the hassle of buying a new one and last but not least it helps mother earth by protecting the environment. So next time, when you move to a new house or thinking of replacing your old furniture, do try Singapore upholstery service providers Jia Xing, who have over 30 years of experience in both modern and classic styles, specialize in custom-made furniture and encourage environmentally friendly, stylish and comfortable furniture for household, offices and various industries.